Key aspects of the role
Often as a member of a selected multi-professional clinical team, provides evaluated clinical evidence for patient care at the time and point of need.
Builds relationship with selected teams by attending ward rounds, case reviews, audits and other departmental meetings.
Conducts proactive systematic and complex literature searches, appraising, synthesising and summarising results to ensure that the team are basing service development decisions on evidence and examples of good practice to improve patient care.
Identifies the on-going clinical interests of team members and provides highly personalised current awareness and alerting services.
Designs and delivers library, information and research skills training to support evidence based healthcare.
Evidence summary: Clinical Librarianship. Alison McLaren & Marianne Lindfield (March 2018). REDHILL, UK: Surrey and Sussex Library and Knowledge Services.
Examples of Clinical Librarianship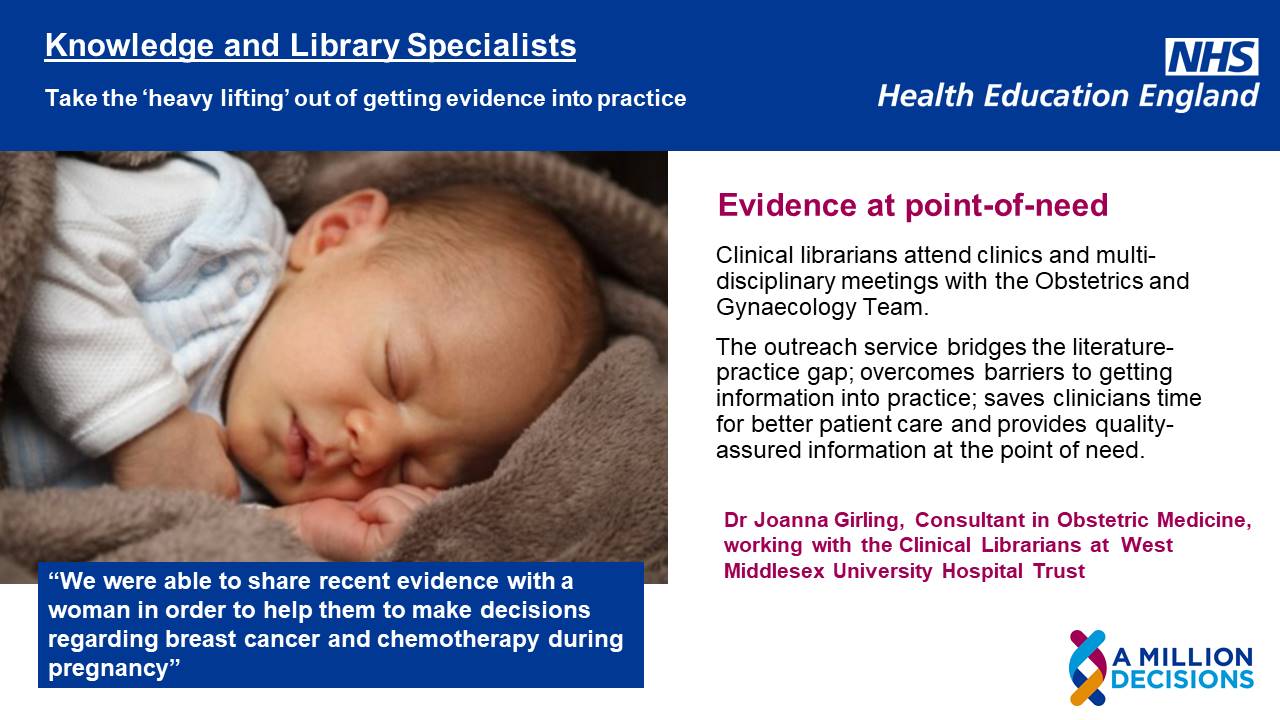 Skills and knowledge
You may require a high level of knowledge and skills in the following PKSB sections to work within this role:
Ethics and Values. Underpinning healthcare ethics and values by providing the best available evidence at the right time, in the right place, to inform decision-making and enable better outcomes for patients and populations.
Professional development. Reflecting on practice and being self-aware about performance.
Organisational and environmental context. Developing an awareness of new initiatives, programmes and services that are emerging in the organisation.
Wider library, data, information and knowledge sector context. Networking across the healthcare economy, both information providers, data analysts and health informaticists, to support shared learning and joint working
Data Management. Supporting data literacy through research support, enquiry services and critical appraisal clubs
Information exploitation and use. Delivery of information through routes such as alerts, current awareness, enquiries and literature searches, including saving the time of users by providing time-saving services such as synthesis and summaries of evidence.
Information management. Advising the organisation on the opportunity to improve information management.
Knowledge management. Helping teams to share and use lessons learned, and to articulate tacit knowledge including personal insights.
Literacies and learning. Tailoring training for different audiences and adapting the offer for different learning styles.
Research. Helping users to find, appraise and apply research in practice.
Customer focus. Service design and marketing. Engaging with a variety of users across the healthcare landscape to provide a professional and efficient service
Leadership, advocacy, influencing and personal effectiveness. Demonstrating self-awareness and emotional intelligence. Understanding preferred styles of working to inform interactions with others in order to build strong networks and develop partnerships.
Technology and communication. Reading and synthesizing texts which use specialist healthcare language and applying knowledge of appropriate terminology when searching for evidence.
Further information about the CILIP Professional Knowledge and Skills Base
60 seconds with … Alison Harte, Clinical Librarian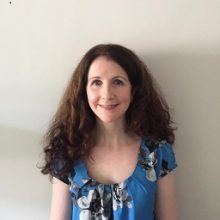 My name is Alison Harte and I work as a Clinical Information Specialist 
In a sentence what does your job entail? Fundamentally, I assist health professionals in navigating the vast amount of information available to them when making clinical decisions, writing research articles, performing literature reviews to inform research, educating and teaching or writing new guidelines.
Tell us about your proudest achievement at work? I think it was when I supported a specialist nurse who was struggling to pass her Masters. Because she was so intuitive in her role, writing systematically was proving hard and she wasn't convinced she could do it.  I showed her how to search the literature effectively for a question on which she was having difficulty finding information, to better success. However, I also offered her someone to talk through her thoughts and concerns about what she was doing. Mostly I listened but I also told her of my own struggles when doing research and, basically, made her feel like she wasn't on her own, which is sometimes all people need when they are finding something a challenge. I also made it very clear the library was there to support her. She passed and she made a point of coming to visit me to share her happy news because she knew I really cared how she got on. I believe, when you work in an environment like the NHS, that is built on caring for people, it is important to show our health professionals that we support them and care about their challenges, too.
Are there things that you do in your job that would surprise others? Being involved in urgent patient care. Clinical staff often know the right resources to access when informing difficult clinical decisions but, sometimes, a case may prove more complex and they need the most up to date evidence available, as soon as possible.  When a request for urgent patient care comes up, we make it the priority to ensure the information is with the requester that day.
What is your top career tip? I would say foster your relationships with the clinical colleagues you support. Let them know you can be relied upon. As the saying goes, 'actions speak louder than words' so, if they know you will do your best for them, they will come back to you and recommend you and the service to their colleagues.
How do you see your role changing over the next couple of years? I think with the launch of EBSCO Discovery, there will be a lot more time allotted to training of staff on how to use this platform to search the literature. The preview looks excellent, and I think it will be a really useful and comprehensive tool for those unfamiliar with literature searching. This will allow us more time to spend supporting systematic reviews – which seem to increase year on year.
What is the most challenging thing you have dealt with at work? Like many, I would say the pandemic. I was only 8 months into a new role as a clinical librarian, in a new working environment (University Hospitals Leicester), when lockdown hit. I will have worked at UHL for two years, this month (August) and I have spent the majority of my working time in lockdown. Not being able to train and interact with people face to face, as I needed to establish myself and foster relationships with the specialities I cover, has been unfortunate. However, like everything, you adapt but going back to work in an office with other people to talk to has felt quite surreal. It makes you more aware of the importance of human contact. 
Have you got any hidden talents? I know a considerable number of dinosaur names that cover the whole alphabet (yes, including x, y and z). I also have increased my general knowledge on dinosaurs in the last year thanks to my 4-year-old, who likes to test me. I'm not sure it's a hidden talent but it could be useful in a pub quiz
What do you enjoy most about your role? The end users. In my role, this is mainly clinical staff. They are so appreciative of the help our service offers – it's so easy to give your best when the people you are supporting value it
Is there anything else you would like to tell us about your role? Only that it is an interesting and varied role, with so many opportunities to learn and develop your skillset. I meet a wide variety of colleagues from different specialties and roles and I have learned so much more about what they do and the challenges they face. Ultimately, I feel I am making a small contribution to improving patient care via the support I offer my clinical colleagues. It's a nice feeling.