Key aspects of the role
Helping NHS staff and students to acquire the skills needed to access the knowledge base of health care with competence
• Promotion of library and knowledge services to health professionals by all appropriate means, including talks, seminars and promotional visits to community and primary care premises.
• Designing training sessions and materials for health professionals, creating learning objectives, lesson plans and online or printed training materials.
• Delivering sessions on advanced literature searching, critical appraisal, digital literacy or study skills such as reference management and note taking to library users on a 1-2-1 and group basis either in the library or in the workplace.
• Establishing and maintaining robust mechanisms for evaluating training so that feedback can be used as part of a continuous quality improvement process.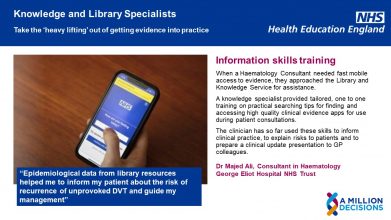 Skills and knowledge
You may require a high level of knowledge and skills in the following CILIP Professional Knowledge and Skills Base (PKSB) sections to work within this role:
Ethics and Values. Underpinning healthcare ethics and values by providing the best available evidence at the right time, in the right place, to inform decision-making and enable better outcomes for patients and populations.
Professional development. Reflecting on practice and being self-aware about performance.
Organisational and environmental context. Developing an awareness of new initiatives, programmes and services that are emerging in the organisation.
Wider library, data, information and knowledge sector context. Networking across the healthcare economy, both information providers, data analysts and health informaticists, to support shared learning and joint working
Data Management. Supporting data literacy through research support, enquiry services and critical appraisal clubs
Information exploitation and use. Delivery of information through routes such as alerts, current awareness, enquiries and literature searches, including saving the time of users by providing time-saving services such as synthesis and summaries of evidence.
Information management. Advising the organisation on the opportunity to improve information management. Information governance and compliance.   Maximising the use of information resources available to the service within the limits of licencing regulations.
Knowledge management. Facilitating a range of knowledge mobilisation tools, including activities such as a Randomised Coffee Trial or a Knowledge Café.
Literacies and learning. Tailoring training for different audiences and adapting the offer for different learning styles.
Research. Helping users to find, appraise and apply research in practice.
Customer focus. Service design and marketing. Adapting to fit the needs and expectations of individuals, organisations and user groups.
Leadership, advocacy, influencing and personal effectiveness. Demonstrating self-awareness and emotional intelligence. Understanding preferred styles of working to inform interactions with others in order to build strong networks and develop partnerships.
Technology and communication. Providing information on and training in using social media, and skills around the publication process
Further information about the CILIP Professional Knowledge and Skills Base
Communities of Practice
LIS STANDS – https://www.jiscmail.ac.uk/cgi-bin/webadmin?A0=LIS-STANDS
CLIST – http://www.londonlinks.nhs.uk/groups/clinical-librarians-information-skills-trainers-group/
LIHNN Trainers Group – http://www.lihnn.nhs.uk/index.php/lihnn/lihnn-groups/trainers
Kent Surrey and Sussex Libraries Searching and Training – https://sites.google.com/site/healthliteraturesearchers/Home
CILIP ILG – https://www.cilip.org.uk/about/special-interest-groups/information-literacy-group
60 seconds with…Lisa Bursheidt, Information Skills Trainer
In a sentence what does your job entail? I teach people how to find and use good evidence to support their day to day work, research projects, and continuing education.
Tell us about your proudest achievement at work? I was a speaker at the HLG conference in 2015. I talked about a project that I'd done where I spent a month teaching health information skills to public library staff.
Are there things that you do in your job that would surprise others? I think it would surprise people how much travel I do. Our trust is really spread out geographically so I spend a lot of time going to different sites to teach people in their offices and clinic rooms.
What is your top career tip? You never know until you try! I never thought I'd end up in a medical library, because my background is in Humanities, and I never thought I would love training as much as I do.
How do you see your role changing over the next couple of years? I have recently moved to a Clinical Librarian post. My Info Skills trainer role changed a lot in the four years that I did it: I did a teaching qualification, designed my own courses, and set up various newsletters and current awareness services to help staff keep up to date.
What is the most challenging thing you have dealt with at work? Making people understand why I was in their space. Especially at the beginning, I had to grow some muscles with regards to asserting myself and explaining to non-librarians how I could be useful and why I was there. Thankfully I've been able to get the message across to the majority of people!
Have you got any hidden talents? I don't think I really hide it! I'm quite musical. I play the flute and I sing, both in a choir and solo. It's great fun.
What do you enjoy most about your role? The variety. Every day is different, and while there are some routine tasks, you never know who might phone or turn up and what problems and questions they'll bring me