Key aspects of the role
Managing the enquiry desk.  This involves first contact with users either face to face, by telephone, or via e-mail and helping to answer their enquiries relating to patient care, research or professional development.
Supervising the work of other assistants allocating work and providing support, expert advice and training as required.
Researching enquiries using information from medical textbooks, databases and the internet.
Ordering books and making them ready for loan
Managing the article request and book loan services.
Supporting users to effectively use services, facilities, and resources this includes helping them to use the library computers to find information and research.
Helping with promotional and training events.
Providing administrative support for services.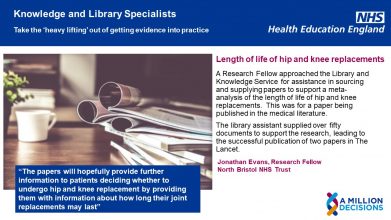 Skills and knowledge
You may require a high level of knowledge and skills in the following CILIP Professional Knowledge and Skills Base (PKSB) sections to work within this role:
Ethics and Values. Underpinning healthcare ethics and values by providing the best available evidence at the right time, in the right place, to inform decision-making and enable better outcomes for patients and populations.
Professional development.  Reflecting on practice and being self-aware about performance.
Organisational and environmental context.  Considering where improvements could be made in the library and knowledge service.
Wider library, data, information and knowledge sector context.  Shadowing or observing practice in another sector and applying any learning to practice.
Collection management and development.  Understanding and catering to the breadth of actual and potential user groups
Data management.  Understanding and supporting service users with research data management, assisting with institutional repositories or signposting alternative repositories.
Information exploitation and use.  Awareness of the diverse purposes for which information is sought including, but not restricted to; patient care, commissioning, service planning, audit, research, quality improvement, education, training and CPD and current awareness.
Information governance and compliance. Sharing of information within and beyond organisational boundaries within the limits of licencing, regulation and guidance.
Information management.  Organising all types of information and other resources.
Knowledge management. Supporting communities of practice.
Research. Helping users to find, appraise and apply research in practice.
Literacies and learning.  Promoting library spaces as places for learning as well as obtaining information.
Customer focus, service design and marketing.  Engaging with a variety of users across the healthcare landscape to provide a professional and efficient service.
Leadership, advocacy, influencing and personal effectiveness. Demonstrating the impact of the service and marketing it in an innovative and proactive way.
Technology and communication. Delivering training in digital skills and digital literacy for users and staff.
Further information about the CILIP Professional Knowledge and Skills Base
60 seconds with…Bali Moore, Senior Library Technician
My name is Bali Moore and I work as a Senior Library Technician
In a sentence what does your job entail? 
To support the Head of Library and Knowledge Services in the day to day running of the Library and Knowledge Services.
Tell us about your proudest achievement at work? Appearing on the front cover of the report, Health Education England, Value Proposition: The gift of time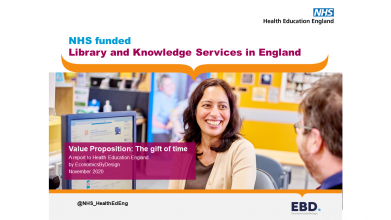 Are there things that you do in your job that would surprise others? I'm also the LMS Deputy Administrator for 21 NHS Libraries.  
What is your top career tip?   Surround yourself with people who nurture and encourage you. Both in your professional and personal life; anyone else can be a distraction or an energy drain. 
How do you see your role changing over the next couple of years? With the increased use of IT and remote working; we have adapted to provide more online teaching using Microsoft Teams and recorded induction material.  
What is the most challenging thing you have dealt with at work? Covid-19 continued to provide library service; implementing social distancing measures, updated signage and cleaning stations for our users also adapting to remote working.  
Have you got any hidden talents?  I love to cook; my family think I should open up my own restaurant; saying it would be a real success!
What do you enjoy most about your role? The variety of work activities; no two days are ever the same.