Key aspects of the role
Providing information to patients, families, staff and visitors by managing walk-in patient information points and handling enquiries. 
Work with clinical colleagues to deliver initiatives to improve the experience of patients, to promote health and wellbeing 
Providing relevant and appropriate information about conditions and treatments directly to patients. 
Engaging with Trust staff to produce patient information policies and assist with the provision of locally produced information for patients and the public. 
Build partnerships with other information providers to raise awareness of digital health literacy 
Proactively offer information services at meetings which address patient care, research, safety and quality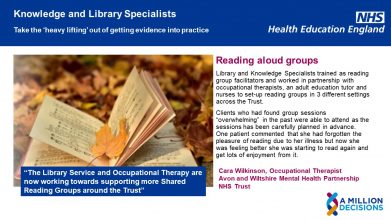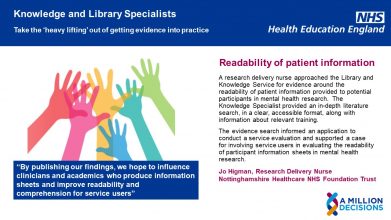 Skills and knowledge
You may require a high level of knowledge and skills in the following CILIP Professional Knowledge and Skills Base (PKSB) sections to work within this role:
Ethics and Values. Underpinning healthcare ethics and values by providing the best available evidence at the right time, in the right place, to inform decision-making and enable better outcomes for patients and populations.
Professional development.  Reflecting on practice and being self-aware about performance.
Organistional and environmental context.  Developing an awareness of new initiatives, programmes and services that are emerging in the organisation.
Wider library, data, information and knowledge sector context.  Working in partnership with colleagues in external organisations, for example, public libraries and reflecting on areas of common interest.
Collection management and development. Understanding and catering to the breadth of actual and potential user groups.
Data Management.  Supporting data literacy through research support, enquiry services and critical appraisal clubs
Information exploitation and use.  Determining specific information needs through techniques such as the reference interview and enhancing the rigour of search services through the use of search protocols and procedures.
Information management. Managing information flows within organisations, for example in the case of guidelines and policy management.
Knowledge management.  Collaborating with other departments and teams to facilitate and undertaken knowledge mobilisation activities and processes.
Literacies and learning.  Providing evidence to support organisations to meet their responsibility to produce accessible, evidence-based healthcare information to aid individual decision making and self-sufficiency
Research.  Helping users to find, appraise and apply research in practice.
Customer focus. Service design and marketing.  Adapting to fit the needs and expectations of individuals, organisations and user groups.
Leadership, advocacy, influencing and personal effectiveness. Demonstrating self-awareness and emotional intelligence. Understanding preferred styles of working to inform interactions with others in order to build strong networks and develop partnerships.
Technology and communication. Reading and synthesizing texts which use specialist healthcare language and applying knowledge of appropriate terminology when searching for evidence 
Further information about the CILIP Professional Knowledge and Skills Base