Mobilising Knowlege
Nationally and locally it has never been more essential to ensure that the NHS uses the right knowledge and evidence at the right time. In order to improve organisational efficiencies and patient outcomes health care professionals and organisations need to be able to apply knowledge, build know-how and continue to learn in order to drive innovation. Using the simple techniques from the Knowledge Mobilisation Framework can make a real difference to help the spread and adoption of best practice.
Louise Goswami describing how the NHS Knowledge Mobilisation Framework can be used to support workforce transformation
Knowledge Mobilisation Framework
The NHS Knowledge Mobilisation Framework is designed to help individuals to develop and use skills to mobilise knowledge effectively in their organisations – to help them to learn before, during and after everything that they do so that pitfalls can be avoided and best practice replicated.
As a freely accessible e-learning programme techniques are introduced which help you to plan, co-ordinate and implement knowledge mobilisation activities in your organisation.  Accompanying the framework are a set of postcards.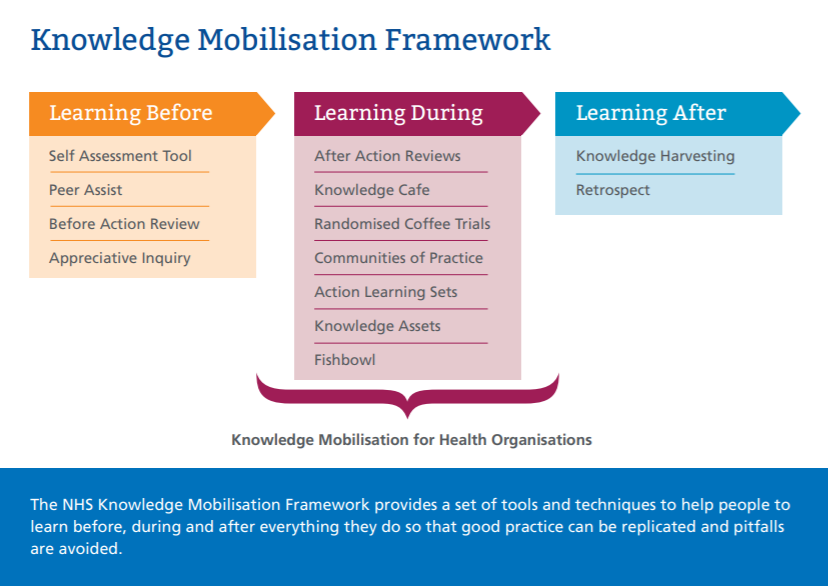 Knowledge Mobilisation Postcards
Learning Before is about considering what you know, what you don't know and identifying strategies to plug knowledge gaps to get a piece of work off to the best possible start.
Learning During is concerned with both new knowledge requirements as they emerge and packaging insight/experience to provide the foundation for the work that follows. Many learning during activities are about bringing people together to share their knowledge and ideas.
Learning After is concerned with taking a pause to reflect on a work activity, and to capture, build – and ultimately share a knowledge base of a work area with those that would have an interest in it.
If you would like to print a set of the postcards please download the print-ready files.