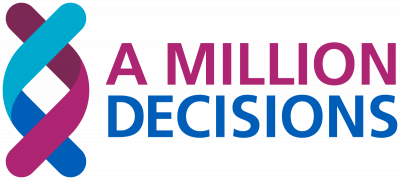 Every day across the healthcare sector in England more than a million decisions are made that have a profound and lasting impact on people's lives and which influence the quality of healthcare and the cost of services.
#AMillionDecisions is an ongoing initiative jointly-led by Health Education England and CILIP, Chartered Institute of Library and information Professionals. It calls for all decisions in the healthcare sector to be fully evidence-based, and for health service providers and commissioners to employ and make use of the expertise of librarians and knowledge specialists in meeting their obligations under The Health and Social Care Act 2012.
#AMillionDecisions aims to:
demonstrate and promote the skills, role and positive impact of health librarians and knowledge specialists in supporting key health agendas
recruit key advocates from the health sector who will be influential champions
secure a change in senior management practice in utilising the expertise of health librarians and knowledge specialists to inform evidence-based care
create advocacy materials which can be used by all
See what our Champions have said
Senior leaders from across the health sector have endorsed our work. Join them and share your message by contacting a Regional Library and Knowledge Services Lead

Interview with Dr Jonty Heaversedge, Chair of NHS Southwark CCG and Medical Director for Primary Care and Digital Transformation in London
Interview with Rob Webster, Chief Executive South West Yorkshire Partnership NHS Foundation Trust
Examples of our impact
Health librarians and knowledge specialists ensure that decisions are based upon the best available evidence and encourage knowledge to be captured, shared and re-used.
Multiple benefits are possible for NHS staff and organisations when they work closely with health librarians and knowledge specialists:
improving quality of care
improving patient outcomes
releasing clinician time for care
saving money
facilitating decision making
enabling change and innovation
improving understanding and knowledge
The selection of case studies illustrates the work carried out by librarians and knowledge specialists