Knowledge as an asset
To implement successful change, introduce technological innovation, improve quality of care and transform services and our workforce, the NHS needs to get better at managing information, evidence and knowledge. These are valuable assets, yet rarely considered at Board level. Using data and research evidence, sharing know-how and implementing best practice are all business critical.
Knowledge Mobilisation Self-Assessment Tool
Building on best practice in the private sector Health Education England has developed a simple framework to help you quickly assess opportunities to make better use of information, evidence and knowledge as an asset.
This framework invites you to:
assess what is working well and what more could be done
consider initiatives which will make a positive impact on your bottom line
prioritise and develop an action plan to help you meet your objectives.
Using the Self-Assessment Tool
This tool can be used in a number of settings for instance at an executive team meeting or a Board seminar. A more comprehensive review can be achieved by each Directorate or Division completing individual assessments, which can then be compared to help your organisation adopt best practice through targeted support.
The first step is for you and the organisation to agree in what capacity you are going to complete the online framework. We recommend a consistent approach individually and as a group to clarify the role (or roles) in which you are engaging in this discussion. You may have different responses in relation to your responsibilities as a board member or as a director or team member.
When ready to use the tool, contact a member of your Knowledge and Library Service Team who will set-up the tool for you to use.
Following completion, a member of the Knowledge and Library Service Team will be in touch to present your responses and suggest opportunities for development in the form of an action plan, including commissioning external services, as needed.
We recommend that you allow 15 minutes to complete the tool and allocate a further 60 minutes to discuss and agree opportunities with someone form your Knowledge and Library Services Team.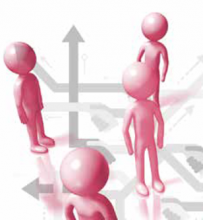 Why spend time on this?
Do you have a clear idea about the information issues and risks that your organisation is facing?
Do you understand the opportunities to leverage information to drive innovation?
Review the Board Checklist, Information as an Asset to better understand "why" this must be managed at the highest level in the organisation.